La Concha Beach Bar – El Cotillo, Fuerteventura
---

I was in La Concha beach bar and restaurant for a beer after my swim in El Cotillo on a recent trip to Fuerteventura. When on holiday in Fuerteventura it's become a bit of a ritual to always visit La Concha beach bar, at least once per trip. When you visit it yourself for the first time you'll understand why it quickly becomes habitual.
La Concha is a classic Spanish style beach bar or "chiringuito", which serves some hot and cold food but most importantly, some cold drinks.
And, it's no struggle to have the cool beer while waiting for a paella to be prepared. I recently indulged in this with one of my sons after an afternoon dip. Sitting with the warm sun shining and the waves lapping in the background, a slice of Fuerteventura paradise. If paella doesn't tickle your fancy then you fret not, the La Concha Beach Bar has a wide good selection to eat with fresh fish in peak seasons.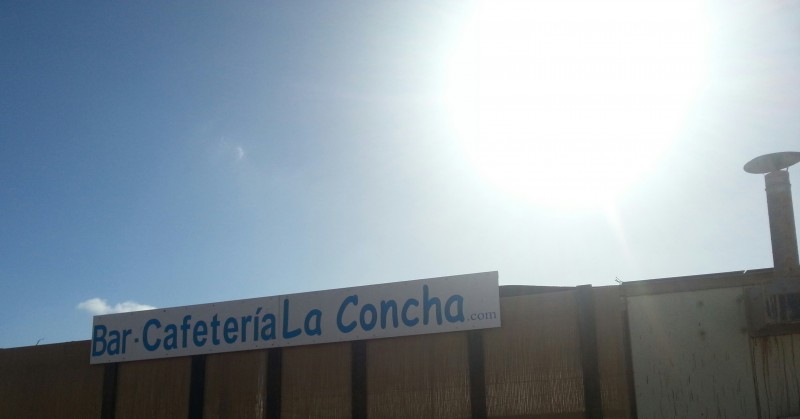 Just in case you forget the name, La Concha beach bar in El Cotillo
La Concha Beach Bar – El Cotillo, Fuerteventura
After the aforementioned lunch I strolled back the apartments for my siesta. Maybe it is old age, or, maybe I am getting more Spanish but the siestas are getting easier and easier. Our apartments to rent in Fuerteventura are only a few minutes walk from La Concha beach bar – maybe a bit longer on the way back depending on exertions whilst there.
I don't know what the weather is like where you are but after my recent short trip to Fuerteventura I'm back home to this awful weather, rain, wind and floods. Certainly not beach bar weather anyway.
The silver lining to the many clouds that are currently on the horizon is that I will be back in Fuerteventura in 3 weeks to really finish off the Winter. I'm already looking forward to my next paella in La Concha and a bit of El Cotillo sun.
g.